Home again from another wonderful time spent in our much loved Tuscany at Casa di Vignolo in Pergine Valdarno that we booked online through Tuscany Villas, a wonderful website with a great staff. I won't discuss the usual stuff (Florence, Arezzo, Pienza, Brolio, Pisa) because you have heard that, but, instead a couple of new places and a wonderful weekend with the donors to the Astronaut Scholarship Foundation. Let's start with that.
Steve Wirth and Jill d'Agostino and Jerry and Mary Matulka plus their granddaughter Lexie were our guests for three days because they "bought us at auction"…that is a three day visit was one of the auction items…an Astronaut Experience, and it truly was. They had never been in the Tuscan countryside, and as Jill expressed it, "Lived the real Italian life."  Our daughter Cathy, and we enjoyed them so much and we are so grateful for their generosity to the Scholarship fund. Their gift funded a scholarship for a worthy science student at one of  28 universities in the USA.
As is our usual, we started their tour with a bit of World War II history. We like to introduce our guests to the close bond they share with the Italian people who have continued to remember and cherish the freedom the Allies brought to them. So a visit to the Arezzo cemetery for the British troops and time spent in Civitella, a small village that is memorialized for the massacre the Nazis inflicted on 175 citizens are the first places to which we journey. Then on to Brolio castle, Vertine, a picnic, Arezzo, and Monterchi for some art of Piero della Francesca.
We ended their visit at Coltibuono…our favorite restaurant, food, waiter and view in all of the world! This place has been labeled "Paradise" by more than a few of our guests. The soft moonlit view of the valley of the Arno far below, unforgettable food and the gentle kindness of Riccardo for SIGNOR Carr and SIGNORA Carr is unforgettable.
But there  is more. Together Cathy, our perfect traveling companion, and Jerry and Pat had some amazing new experiences. First on the list is Bagno Vignoni. This is a small town in Southwestern Tuscany  located on the old pilgrim's trail, the via Francegena. It was a famous stop because of the mineral springs and the beautiful baths available. Pope Pius II stayed here and Catherine of Siena.
The unusual feature is the piazza which is a gigantic pool instead of the usual brick floor. A cool breath in the very hot July weather, the perfect place for a gelato and the unlikely sourc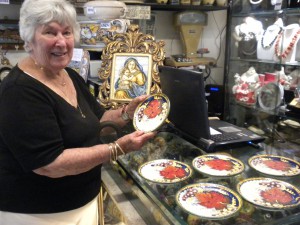 e of six beautiful Florentine pottery plates that could not be passed by, destined to be carefully packed in the returning suitcase.
Nearby was our discovery of the beautiful wine estate Col d'Orcia and the fabulous Brunello that became our all time favorite wine…complex, layers of tastes and some sort of shock as it rolls down the throat, we are delighted to find we can buy it in Saratoga Springs, New York!
I can't close without mentioning the Pieve tour, our host Francesco sent us on. Pieves are small country churches, often standing alone in the countryside. In olden time they were the source of baptism for many other surrounding country churches. This one was on the via Setteponti, another pilgrim road. We started at an old Roman Bridge, arching the Arno. We spent the day driving from one pieve to another. We saw some beautiful architecture and art and felt the spirit of those who still worship in these small sacred spots.
It was so difficult to say "Ciao" (never goodbye) but as we flew over the coast and looked down on the hills, valleys, golden meadows, tile roofs, cypress, and rivers we love, Cathy and Pat were already planning next year's visit. This place is deep in our hearts and we are so grateful for the opportunity to share it together and to share it with you.
Ciao!.